``Another Way Out'' takes Y&R plotline state at time of publication and shows that there are interesting places right around the corner. The goal, besides having some fun with good-natured parody, is to challenge the notion that we must be mired in certain tired plotlines for months just to have a good time. There is always another way out...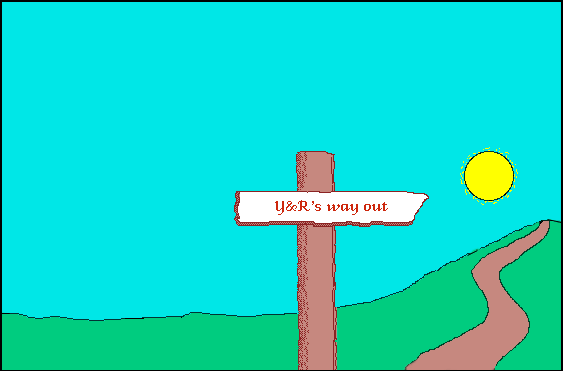 ---
CURRENT EPISODE:

Sorry, nothing current.
The most recent is October 11, 2001.

NEXT EPISODE:

None scheduled.

I'm taking a break from this writing project to work on some of my other writing projects (politics, social commentary, humor, sci-fi, computer programming, and miscellaneous web postings). Only some of these things are available on the web; some I'm hoping to do as published books, so please watch for them.

If you have thoughts about the show or about my writing, feel free to click here to send me e-mail.

If you'd like to be notified when there's something new so you don't have to check the site all the time, you can send me e-mail about that, too.
---
---
Background information about Another Way Out:
Don't like heavy graphics? A text-only version of this page is available.
Both are kept up-to-date. Bookmark either one!
---
Done with AWO for today?
There's more Y&R-related fun at
Or click here for other ``related pages.''
---
Page created and maintained by Kent M. Pitman.
Copyright 2004, Kent M. Pitman. All Rights Reserved.
The ``Another Way Out'' series is NOT affiliated with, nor is it authorized by: The Young and the Restless, CBS-TV or Sony Pictures.